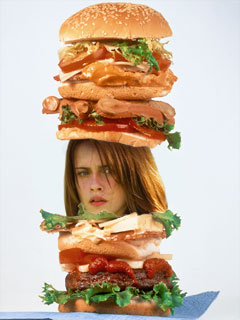 EW has an article about Twilight-themed food in Forks!
Bella Burger
-- "a hamburger bun, a patty (both vegetarian and beef patties are available), pineapple -- a little sweetness to match Bella's personality -- and, of course, Sully's secret sauce."
Review:
Can I get some gruyere cheese up in here? And whatever the hell that peanut butter-esque layer is in our spot-on pictorial rendition of this burger? Thanks!
Grade:
B


Personally, I think the person who wrote this article should have read Twilight before writing about anything related to it!
Read the article at: http://popwatch.ew.com/popwatch/2008/08/twilight-dishes.html?cid=125467528#comment-125467528