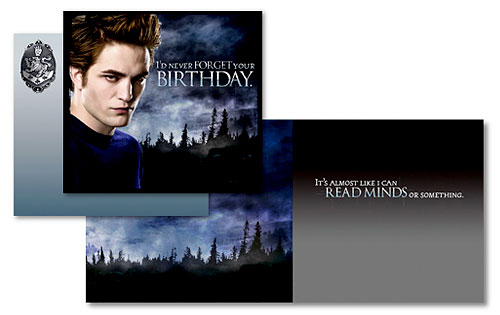 Talk about the perfect gift! Who needs money, wrap me up this hot babe Edward and I'd be happy :)
Hallmark has already begun unveiling its awesomely campy new line of Twilight-inspired cards. New birthday greeters, featuring the likenesses of Robert Pattinson, Kristen StewartTaylor Lautnerand friends, will continue to make their way into stores through September, says E!Online.

Btw, the picture is quite small so if you can't read the print I'll tell you! The first card with the lovely headshot of Edward/Rob says "I'd never forget your birthday" and the second one says "It's almost like I can read minds or something." Hmm, I like em'. But they would be even better if they actually came from him..
Article, Source, and Picture by E!Online.