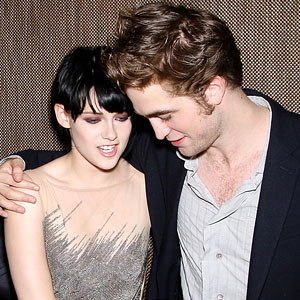 Yes, this is the question everyone wants answered.
Is there or is there not a Robsten? Well I believe that there ...
Hmm, nevermind we'll leave that up to you to decide :)
Just because Robert Pattinson and Kristen Stewart are such a perfect match on screen, Twilight screenwriter Melissa Rosenberg thinks it's time we mind our own business about what goes once the cameras stop rolling.

"Their chemistry on film is so extraordinary," Rosenberg told us at the Entertainment Weekly/Women In Film pre-Emmy party. "They were beautifully cast for those roles and their chemistry is amazing. I think people often confuse chemistry onscreen with chemistry offscreen.
Read more
here
.
Then the question comes back to the fans. What do you think? Robsten or no Robsten?
Article, Source, and Picture by
E!