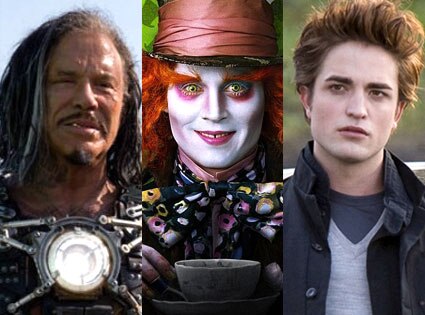 Paramount Pictures, Disney, Peter Sorel / Summit Entertainment
Starting tomorrow, attendees of Comic-Con 2009 will get a sneak peak into some of the most biggest, most buzzed-about flicks from...the future! Fanboys and Twilight tweens will gather to get up in the faces of Robert Pattinson, Robert Downey Jr., Scarlett Johansson, Tim Burton and James Cameron.
Watch With Kristin will corner every TV star at the Con. Plus, we'll be there in capes and fangs, live-tweeting the biggest movie panels on @eonlineMovies and asking the questions you want to know!
What kinds of questions? Well, like...
"Rob Pattz, uh...OMG...EEEEE!!"
Pattinson, Kristen Stewart and Taylor Lautner—along with New Moon director Chris Weitz—will all be appearing. There are rumors of exclusive New Moon footage, special Rob-recorded songs for the soundtrack, and we hope to hear about how Kristen tackled this way-dark chapter in Bella's life.
~E! News Online